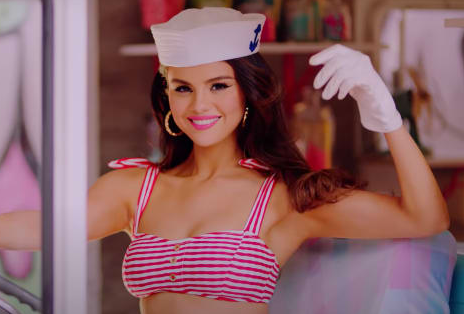 The music video of BLACKPINK's latest single, "Ice Cream," hit 100 million YouTube views Sunday, less than two days after its release.
South Korean gril group Blackpink and American pop princess Selena Gomez unveiled their song "Ice Cream" on Friday. And in addition to the song's dangerously catchy, upbeat vibe, the accompanying video is a stylistic treat, too.
long video boasts all the glossy visuals we've come to expect from both Blackpink and Gomez.
In the opening scene, the American star pairs a striped bikini with a sailor hat, white gloves, chunky gold hoops and wind-tousled hair, as she drives up to meet the K-pop group in an old-school ice cream truck. Lisa, Jisoo, Rosé and Jennie -- who are known for their maximalist fashion -- then appear with chunky gold necklaces, a Dior newsboy cap, pink hair and cherry-shaped earrings. The message is clear from the start: Bold outfits and highly curated embellishments are the order of the day.
"Throughout the music video we tried to have each look suit that entire set, and we especially focused on wearing bright colors that suit the overall vibe of the music and concept," Blackpink said. "We really wanted to portray that fun, bright, summer energy through our outfits, and we hope this message went through to our fans."
The music video achieved the 100-million YouTube feat early Sunday morning, about 41 hours after being released at 1 p.m. last Friday.